Green Belt Certification – Lean Six Sigma
Date :

May 03, 2020 - May 30, 2020

Time :

00:00 AM - 00:00 AM

Location :

Online Workshop on Webex & GoToMeeting

Price :

13451

Speaker :

Deepak Rustagi
Green Belt Certification – Lean Six Sigma
Green Belt Certification is a second level belt of six sigma family and the most exceptional level affirmation. The Green Belt holders are experts who are relied upon to function as a six sigma venture proprietor or pioneer and guide and coach Yellow belt holders under them. A Green Belt Certification ought to show group initiative, change management, comprehend group elements, and dole out colleague jobs and duties regarding finishing the six sigma projects.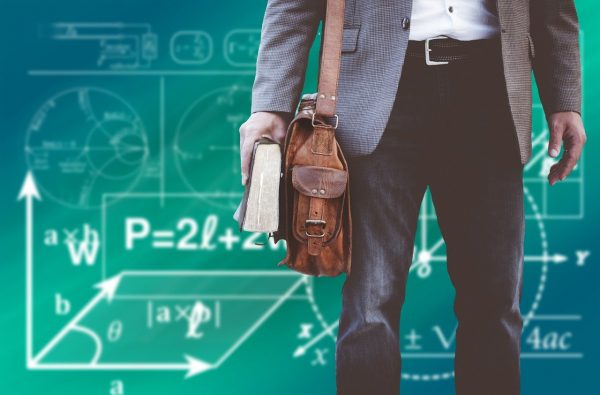 ISEL GLOBAL is a pioneer of Green Belt Certification, and Black Belt Certification in India, and is Rated Number 1 Six Sigma Certification Provider Body in Asia. Linkedin Top Rated.
We train and certify almost 2000+ professionals every quarter for six sigma certification at various levels. Our students come from fortune 500 companies and almost all mid-size and MNCs have our certified candidates available.

ISEL GLOBAL Six Sigma is number 1 for Lean Six Sigma Green Belt in many ways.
We offer the most advanced training by some industry best practitioners and Master Black Belt Trainers. Our workshop is delivered by experts with 30 years of work experience. We revise and update our curriculum every year to suit the latest industry requirements.
We train the largest number of Green Belts, Black Belts in Public and Corporate programs (1800+ every year).
The large network of ISEL GLOBAL Six Sigma trained business excellence professionals has now crossed 65000+. You can find an ISEL Six Sigma certified professional in every large company in India.
We are a community. Our portfolio of certification ranging from Agile, Quality, Lean, IT, Project Management, Data Science, and Business is available to ISEL members free of cost for learning.
We get the largest number of hiring requests in this community as generated from within our network, several of them are fulfilled indirectly through our forum.

May 2020, Workshop Simulation and Result:
We concluded our last program in which our participants simulated a live process and observed that there is 24% variability between teams when using the same resources. With tactical changes (iteration) process performance improved by over 50% and +130% improvement when the process was re-engineered (symbolic investment). 8X improvement in customer experience and TAT improvement was evident. All on simulation of the actual process by participants. No laptops or projector but concepts are bonded into story relayed on the whiteboard along with experiential case examples making it simper for participants to understand.
An organization with our interventions, achieve transformation balance through a 2 step approach:
Achieve 15% improvement in 6 weeks by eliminating waste (Lean before Automation) & Improving Daily work management (15 X 6 Initiative)
Achieve Multifold transformation – Next level of improvement with or without Automation
At ISEL, we believe learning should be fun and link to the success of individuals and organizations. ISEL program is designed to help its participants discover how to change competency can make them successful in their current/future role.
ISEL Programs has enabled 50,000+ individuals through its unique interventions and now we have added 15X6 initiative to the program to enable select participants to achieve the desired transformation through:
Post-program weekly group coaching calls to review progress, guide and remove barriers
One on one session to support analysis and accelerate progress
What's app support – unlimited for 6 weeks.
Just 6 weeks from the program, processes can be 15% better and participant achieves their goal followed by due recognition for success.

Six Sigma Green Belt May Batch Participants Attendance Sheet:
| | | | | | |
| --- | --- | --- | --- | --- | --- |
| Name | Organization | Industry | Location | Experience | Current Roles |
| Ankit Kanwar | Amul | Dairy | Delhi | 12 Years | Sales |
| Ankur Srivastav | Concentrix Daksh | BPO | Gurgaon | 5 Years | Customer Service |
| Ashish Tilwar | Policy X.com | Insurance BPO | Indore | 3 Years | Quality Analyst |
| Asis Mishra | MSPL Ltd | Mining | Hospet | 28 Years | VP Materials |
| Girish Athvale | Business Octane | Audio Visual | Mumbai | 30 Years | AGM Sales |
| Ashwin George | Seamap Geophysical | Oil & Gas | Singapore | 20 Years | Quality Coordinator |
| Krishna Abhiram | HSBC | Banking | Hyderabad | 4 Years | AML Analyst |
| Naga Srinivas Rao Pindi | Cowi AS | Engineering | Denmark | 12 Years | Sr Project Manager |
| C V Sonu | Accenture | IT | Gurgaon | 6 Years | Process Trainer |
| Omank Naithani | MTAR Technologies | Govt. Nuclear | Hyderabad | 11 Years | Biz Dev Manager |
| Porav Papreja | Prudentia Group | Pharma | Noida | 6 Years | Sr Consultant |
| Pranati Chauhan | PPM Logistics | Logistics | Dehradun | NA | Sr. Manager |
| Rima Thakkar | Google Pay | Digital Payment | Hyderabad | 4 Years | Product Manager |
| Rohan Ahire | Samsung Electronics | Electronics | Mumbai | 7 Years | PMO |
| Rupak Gaikwad | Student | NA | Mumbai | NA | NA |
| Sesha Pramod | Hyundai Motors | Automobile | Chennai | 4 Years | Manf. Engineer |
| Subhadeep Modak | Student | NA | Kolkata | NA | NA |
| Sushant Tripathi | Karam Industries | Manufacturing | Lucknow | 7 Years | Assistant Mgr – QA |
| Vaibhav Deoraj | Edulocus Pvt Ltd | Consultant | Hyderabad | 4 Years | Ops. Manager |
| Vijaya Durga | Kotak Mahindra Bank | Banking | Hyderabad | 23 Years | Regional Service |
| Venkat Krishna Satish | Capgemini | IT | Mumbai | 12 Years | QA Manager |
| Vigneshwar | PWC | Finance | Hyderabad | 6 Years | GST Specialist |
| Vivek Ranjan | Badve Engineering | Manufacturing | Bangalore | 9 Years | Production Engineer |
| Yadvindra Singh | Mashreq Bank | Banking | Gurgaon | 14 Years | Project Manager |
| Chandrasekar | Wabco India | Manufacturing | Lucknow | 14 Years | Sr Quality Manager |
| Novel D'Souza | CS Infocomm | IT | Mumbai | 18 Years | AVP Consulting |
| Raghu K | Accenture | IT | Malaysia | 15 Years | Manager |
| Akshit Naresh | Not Working | Student | Hyderabad | NA | NA |
Global recognition for Your Green Belt, Black Belt, and Master Black Belt Certification.





The unique methodology for training and project support is something which differentiates ISEL GLOBAL from other training institutes. We train you on the basis of our experience which we have gained from the Six Sigma Consulting we do for our clients. We help you understand the actual challenges faced and how to overcome them while running a Six Sigma Lean project. We are the most loved and recommended institution on FACEBOOK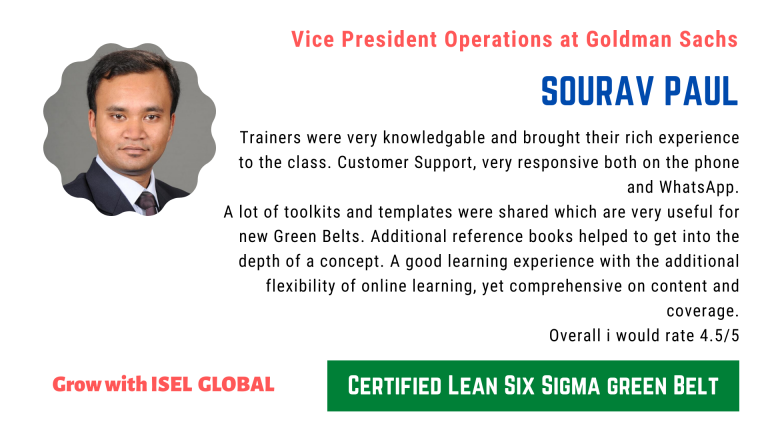 Weekend

online live project-oriented classes |

3

hours

session each day | MINITAB PRO Data Simulation | Implementation Support | 24*7 Support
We foster learning. ISEL workshops are delivered by experienced trainers and industry practitioners who have diversified experience in Lean & Six Sigma Implementation across the domain.

ISEL has Asia's most comprehensive training program with the most advanced learning methodology.

We start a new batch,

live virtual class every

weekend.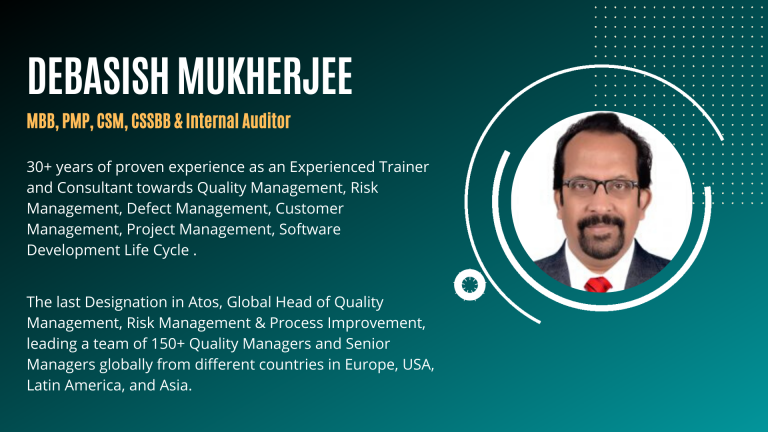 We train the largest number of Green Belts, Black Belts in Public and Corporate programs (1800+ every year).
The large network of ISEL GLOBAL Six Sigma trained business excellence professionals has now crossed 65000+. You can find an ISEL Six Sigma certified professional in every large company in India
Participants
from Amazon, Accenture, HCL, IBM, WIPRO, Oracle, Suzlon Energy, Teleperformance, Myntra, Vedanta, IIT Bombay, JSW Steel, Maxbhupa, HDFC Ergo, ICICI Prudential, Ericsson, EXL, HAL, Infosys, TATA Chemicals, Patanjali, RBS, SAIL & Cognizant Technologies come to ISEL for their Lean Six Sigma Certification Journey.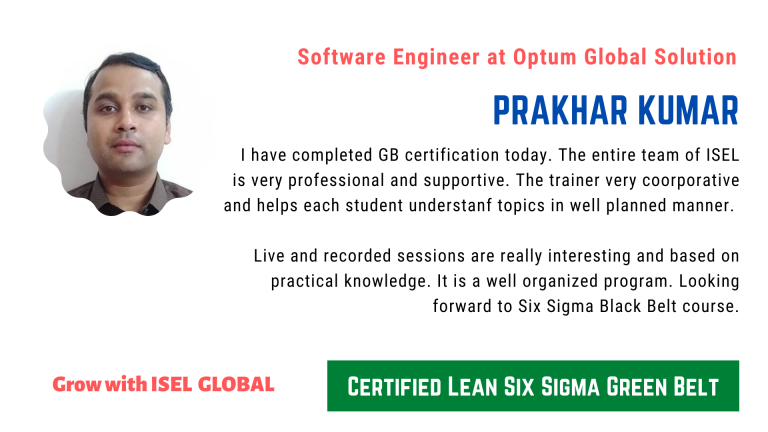 According to recent studies, employers such as United Health Group, Honeywell, GE, Accenture, and Volkswagen have been actively seeking professionals with Six Sigma to fill a variety of positions
Training enhances your skills and enables you to perform roles like Quality Manager, Quality Analyst, Finance Manager, Supervisor, Quality Control, etc.
According to Indeed Job Site, the national average salary for a Six Sigma Green Belt is $72,000 per year in the United States.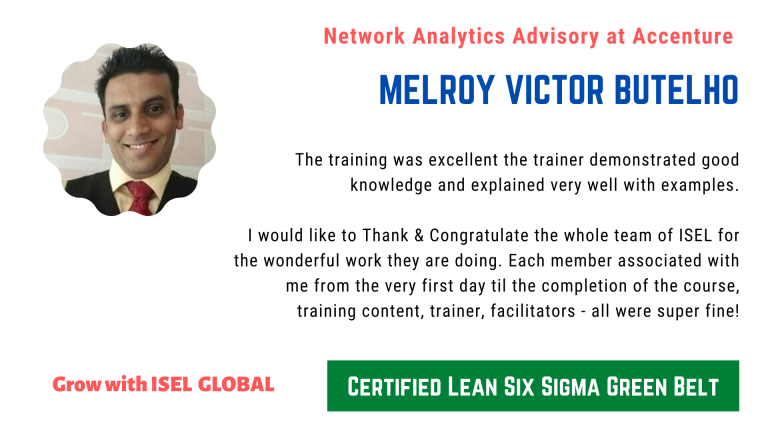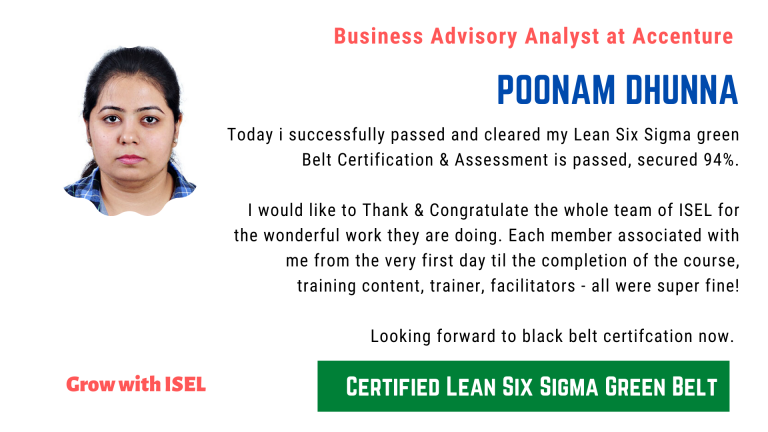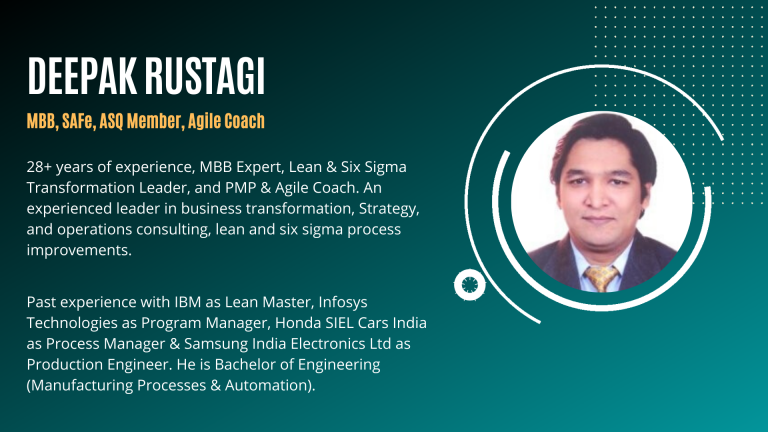 Green Belt holders are capable of six sigma DMAIC system, DEFINE | MEASURE | ANALYZE | IMPROVE | CONTROL and work under the supervision of Master Black Belt Holders.
Learn Lean Six Sigma Green Belt via the most advance and effective learning methodology.
Live Instructor-Led Six Sigma Green Belt Training with live projects and 24*7 learning support.
Learn high-level Data Analysis, DFSS, and Change Management with MINITAB PRO Simulations.
The training is delivered by Master Black Belt experts with case studies and projects.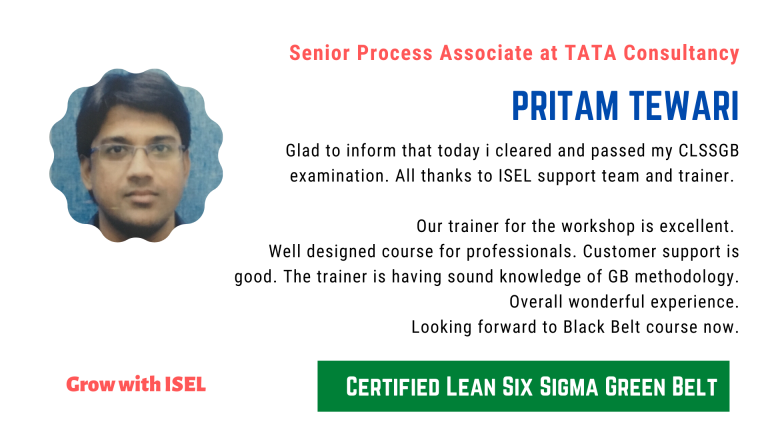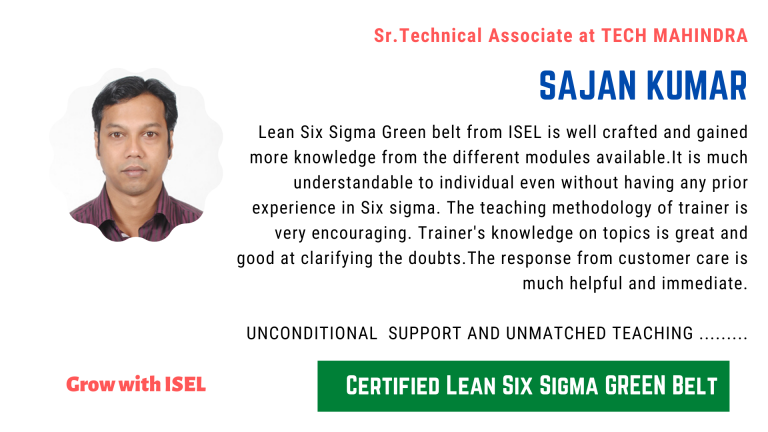 Event Location
June Combo Offer