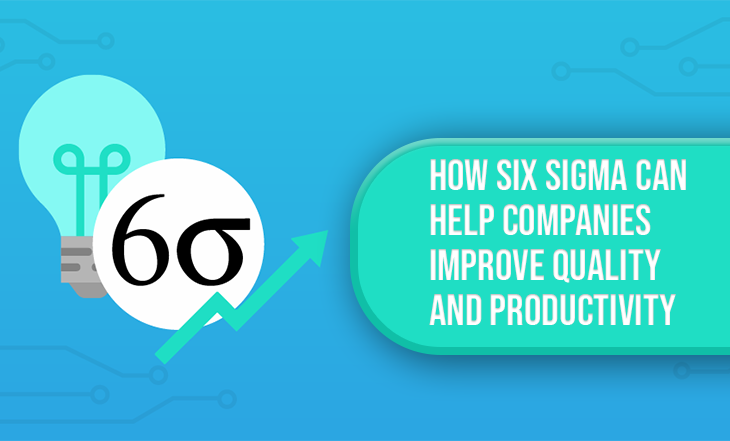 Six Sigma can help Companies Improve Quality and Productivity- In a context of applicability, Six Sigma is a tool that when implemented indicates and helps to manage process quality and further perfection to the same or even any other issue related to the process in quantified terms. Six Sigma is a very disciplined methodology and a rigorous approach when it comes to deployment as it requires uniformity and patience. In short, it actually does the work of nearing perfection which is an ultimate quality persistency, and making the same standard stable is expected to be followed.
This is how Six Sigma can help Companies Improve Quality and Productivity:
To understand its efficiency in terms of 'Quality' and 'Productivity' it's advisable to gaze at the relationship between them.
What is Lean?
It's again an approach just like the Six Sigma set of tools but more focused and précised towards 'waste elimination' without sacrificing productivity. Example: In the manufacturing industry, it might be helpful to lower down the end waste which will save $$$ for an organization in addition to manpower saving and thus return higher productivity and quality.
What is Lean Six Sigma?
To deep dive more there is one more tool that needs to be discussed i.e. 'Lean' which nowadays, has been combined with Six Sigma and is coined as Lean Six Sigma. Certification, point view is said as Lean Six Sigma Green Belt Certification, Lean Six Sigma Black Belt Certification, and similarly for the Master Black Belt.
Quality and Productivity Relationship
As discussed above the relationship between quality and productivity can be defined based on a lean example. Again, assuming there is a process that produces waste in terms of raw material which when gets eliminated helps on gained productivity and lower cost. Similarly, it affects to quality side as well, when productivity is optimized the quality will continue to uplift (till a cap).
Why Improve Quality in business?
The main sync begins from here when both the elements are tied up together.
It improves customer satisfaction
It gives you a head start with a competitor
More Market Share
Lesser waste means more saving
Saving on manpower
Moving further to the implementation and alignment of these two elements, it comes down to the basic DMAIC approach i.e. Define, Measure, Analyze, Improve, and Control. These two core aspects of the result that we discussed above are to be embedded and aligned from the initiation of this process and since Six Sigma has got a lot of criticism in spite of its popularity, thus judging it on an initial level won't reap any benefit.
How does the Process work?
Define:
Understand the customer needs and align them with the process and business objective
Find out the critical key quality i.e. CTQ aspects which clients look for
Measure:
Work on the initial approach which influences the CTQ and quantifies the defects which are currently happening
Analyze the initial sigma level
Make and segregate interval plots and use statistical analysis
Analyze:
Identify the underlying aspect of defect generation i.e. why the process variation exists.
Synthesize the statement of the Problem
Work on the identification of the cause by gathering data through different means
Arrange the data and probable cause
Using analysis tools try to establish the relationship between cause and effect
Improve:
Identify the horizon range for the defined variables
Measure the deviation of defined variables and validate them
In case anything gets out of range, one can always make changes to the process so that things are within our specified range
Root Cause Solution
Opt for the best-fit solution as per the findings
Construct the initial plan and deploy it
Measure and Evaluate the plan
In case of correction amend accordingly
Control:
Construct a solid process document
Let everyone be aware of what is being done and why it's being done
Oversee the performance
Streamline the process
Crux out the result
Roll out the future plan (improved)