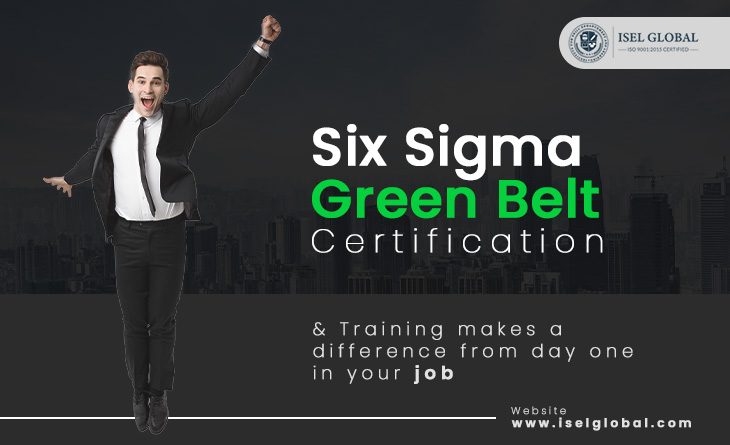 When a professional starts their career in the corporate world, the race of being ahead of everyone starts from day one. The knowledge gained during graduation may be at par with the need of time but after some time it may become obsolete. Every day something or other new technology is developed which makes businesses better. Mastering this technology and skill becomes important if the professional want to be in demand. One of the best ways to gain the latest knowledge and master the skills is by going for certifications. It helps in acquiring the latest skills within a stipulated time and budget. One can see the difference in their job from day one. One of the most demanded certifications nowadays is the six sigma certification which one can apply for at ISEL Global Education.
Lean six sigma is an outstanding technique that companies are increasingly using to improve business processes. It helps in removing any kind of errors that may occur with time. When a business process is developed it includes the latest technology. With time when new technologies are developed, the old ones may become outdated. Because of this, the centrally skewed process may become left or right-skewed. To remove any such deviations, six sigma has the perfect tools. The value of six sigma is 3.4 errors per million opportunities. This means that the business process will operate with 99% accuracy. All this is possible with the techniques used in Six Sigma.
Obtaining a Six Sigma Green Belt Certification & Training is a game-changer from day one of your job. Equipped with valuable problem-solving skills, data-driven insights, and process optimization expertise, you'll stand out as a proactive contributor. This certification not only enhances your employability but also empowers you to identify inefficiencies, drive quality improvements, and streamline processes in your role. With a Six Sigma Green Belt, you're prepared to make an immediate impact, leading to better outcomes, higher productivity, and a reputation as a proficient problem-solver in your professional journey.
The six sigma black belt certification can make a lot of difference in the career journey of an employee. Some of the benefits which it can bring to your job are as follows:
The value of the employee is increased within an organization. Any employee who holds the latest certifications is most demanded. They are easily placed within the projects happening in the company.
The employees get a chance to be involved in some of the major advancements happening in the company. Since business process improvement can lead to a reduction in operational costs and can also save time, this skill is being used by almost every industry.
One gets a chance to make a difference in an organization and make it better
The six sigma certification online also helps in improving the salary of an employee. One gets a handsome salary and multiple job opportunities. The package is increased by leaps and bounds
Since the certificate by ISEL Global Education is a universally accredited certificate, one gets a chance to work across borders as well in good multinational companies.
The scope and demand for this skill will never decrease since it is an essential practice that companies follow. This means that the employees will never go out of opportunities.
Various institutes provide this certificate. One of the best institutes from where one can avail of six sigma black belt certification in Mumbai is ISEL Global Education. It is one of the most renowned institutes in Mumbai that has veteran teachers in this field. They help the professionals to learn the concepts like fishbone diagrams, project charter, 5 Whys, regressions, tools like Minitab, etc both from theoretical as well as practical points of view. With years of experience, they have successfully produced many pioneers in this field. The course can be availed in either online or offline mode. This means that the professionals can complete the certificate at their own pace from anywhere and at any time. The course curriculum is also revised from time to time to meet industry standards. The main aim of the organization is to help professionals in job advancements and take their careers to new heights of success. So when are you applying?