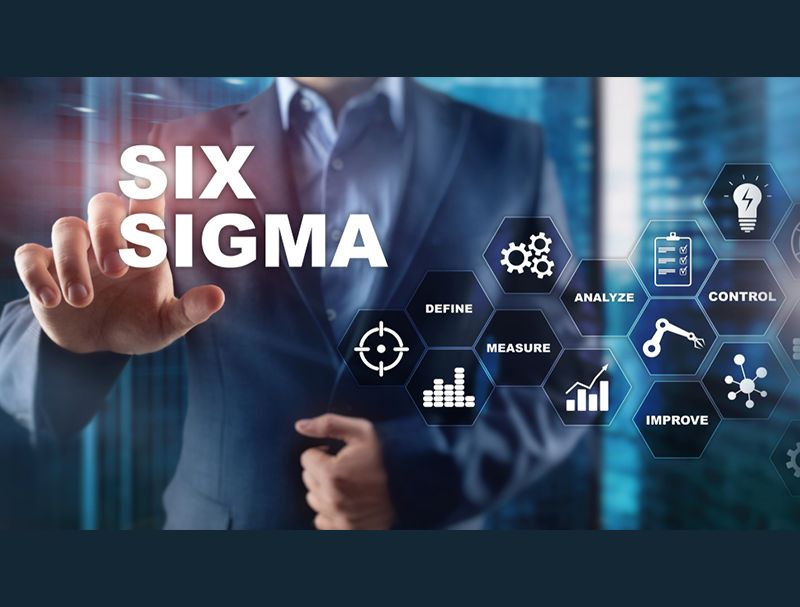 Six Sigma Black Belt Certification Online is a management-mandated instructor-led black belt certification program for professionals who handle six sigma projects and guide and monitor six sigma green belt professionals under them. Black belts are generally senior management who handle a team of Six Sigma Green Belt and assist them in completing and implementing a six sigma culture in an organization. Normally, a six sigma black belt certified professional is expected to have a high level of six sigma consulting and implementation knowledge. Many top multinational companies prefer hiring six sigma black belt certified people in high positions in order to bring process improvement and quality management culture to the organization. Six Sigma black belt certification can be done both online and instructor-led modes. One needs to complete 2 projects and pass a certification test in order to achieve the black belt credentials. The certification generally takes around 3-6 months to complete all requisites and become six sigma black belt certified. Six Sigma Black Belt Certification Online unlocks plenty of career opportunities. The potential for job growth will increase along with the overall pay. Those who are trained in this course can easily expect some openings exclusively offered to them. Those who are trained in this methodology have lucrative ideas and are respected and sought after in their field. Six Sigma Black Belt Training can help in a number of ways and is widely applicable in every domain and process. Individuals looking to excel can easily tap into these training courses and get on the fast track to a successful career.
This certification helps in:
Demonstrates one's ability to integrate Lean Six Sigma as a long-term continuous improvement philosophy in their organizations.
Gives cutting-edge value to professional data.
Improves job performance.
Opens up greater career prospects.
Demonstrate various leadership roles and responsibilities
Gain a fundamental understanding of all components and techniques used in project management
Demonstrate team leadership and understand team dynamics
Demonstrates one's ability to apply Enterprise-wide high-complex DMAIC projects.
Topics covered under Six Sigma Black Belt Certification Online Course: STAGE 1 (Fundamentals)
Six Sigma Concepts and Philosophy
Metrics: DPU, DPMO, RTY
Sigma Deployment
STAGE 2 (Define and Measure)
Define Stage, Measure Stage
Basic Statistics:
The concept of Variation, Data Types, Measures of dispersion – Range, Standard deviation, Variance, Central Limit Theorem
Process Mapping, Quality Function Deployment (QFD)
STAGE 3 (Analyze)
Cause and Effect diagram, Pre?control charts, and Paired comparison
Design of Experiments (DoE): Multi?Vari chart, Fractional Factorial designs
STAGE 4 (Improve)
Process Capability: Cp, Cpk, Pp, Ppk
Advanced Statistics: Sampling distribution, Estimation, Hypothesis Testing, ANOVA
STAGE 5 (Control)
Control Stage, FMEA, Team Work
STAGE 6 (Six Sigma Leadership)
Enterprise View
DMAIC Plus Model
STAGE 7 (Advanced Data Analysis)
Understanding Variation and Causes
Strategies to Reduce Variation
Advanced Statistical Concepts
STAGE 8 (Optimization and Robust Design)
Factorial Designs
Fractional Factorial Designs
Taguchi Methods, S/N Ratios
STAGE 9 (Design for Six Sigma)
Understanding DFSS
Voice of the Customer & QFD
Design of Manufacturability
System and Design FMEAs
STAGE 10 (Lean Enterprise)
Lean Enterprise, Lean Thinking
3M, Seven Types of Wastes
Heijunka, Kanban, Tact Time
Value Stream Mapping, 5S, TPM
Continuous Flow Manufacturing
STAGE 11 (Change Management)
Managing Cultural Change Managing Teams
Facilitation Process and Tools
Team Dynamics and Performance
Project Management
Knowledge Management
STAGE 12
Distributions
Statistical Inference & ANOVA
Measurement Assurance
SPC, Process Capability
Become a master in productivity and excellence with Six Sigma Black Belt Certification Online accredited by International Quality Federation and American Association. This course features live instructor-led training by MB experts with data projects and 24*7 learning support.
On successful completion of the course and course requisites, the candidate will receive an Internationally recognized Lean Six Sigma Black Belt Certification Online accredited by CSSC & IQF, USA.
Lean Six Sigma Black Belt training and certification is approved and accredited by The Council of Six Sigma Certification & The International Quality Federation, USA.
This course offers the Six Sigma Certification Validation Tool for Employers:
Your Six Sigma Certification Validation Tool can be used by employers, clients, and other stakeholders to validate the authenticity of the Six Sigma Certifications you have received. Using the programming code located on your certified LSSBB certification, one can see all your training and certification details online.