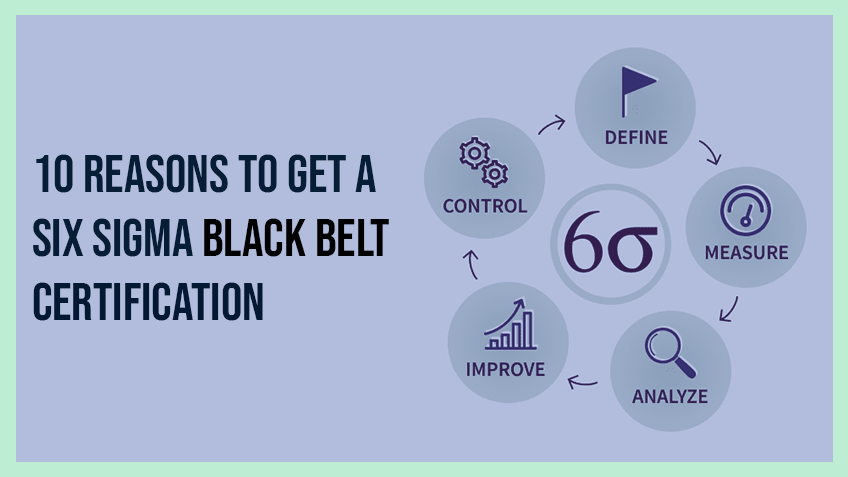 If you are a working professional at least once Six Sigma Certification must have crossed your mind. And if you are a Green Belt certified then due to its implication and career growth stepping up to the next level which is Six Sigma Black Belt Certification for sure would have been a thought. From numerous searches of job listings, you could easily see how frequently employers demand Six Sigma, and statistically as well Six Sigma Black Belt certification is one the highest achievements accomplishable. If you have given a thorough look at the job listing you must have come across that most quality employer either states that Six Sigma is either mandatory or preferred which clearly implies that it is one of the highly professional in-demand skills for management.
Why Six Sigma Black Belt Certification?
On the other hand, if you are on the verge of completing your Six Sigma Black Belt credential and have lesser insights on its applicability, or assuming why you did it; if even this is the scenario, here are the 10 best reasons to pursue Lean Six Sigma Black Belt certification.
1.) A step towards great opportunities
Let's say we're having a Green Belt and were working as a productive team member on a project relating to quality. Now Black Belt training will help you climb a ladder and now you can work as a Project Manager rather than working under one. In addition to this Lean Six Sigma courses enhances your leadership skill.
2.) More robust understanding of the process
Now as a Six Sigma Black Belt training you will get to know the DMAIC (Define, Measure, Analyse, Improve, Control) more in-depth which you studied in your Six Sigma Green Belt course or even lower Six Sigma Belts. Black Belts now allows you to take your knowledge to a different level of understanding of these steps and gives you the skills to precisely perfect them.
3.) Mastering new challenges
From a different perspective, the Six Sigma Black Belt course will open door to new exciting challenges and colossal dimensions to face very swiftly. It's like you were working under just one team and on the operation, this Six Sigma certification is going to open up the cross-team and handling of team projects which increases complexities as well.
4.) Hone your Technical Skills
To get on a new level in your career and handle a team of Green Belts professionals you must have better command over a variety of statistical tools. In your Black Belt training course, you will rigorously work on various advanced data analysis tools on real-time data which will help you to get a better insight into these tools and master them briskly.
5.) Working on your Technical Soft Skills
As a Project Manager, you are supposed to manage cross-team projects without any conflict and effectively make everyone understand even in layman's terms what we are doing and what it takes to get the job done, even to a non-Six Sigma professional. In the Six Sigma Black Belt course, this is taught in such an efficient manner that you can co-relate to the most simplistic examples to make anyone understand something hastily.
6.) Market Analysis
Now as a senior level you are no longer a workhorse, it is expected that you have a solid understanding of the competitors and even have to do competitor analysis to seek out new tactics, and areas in order to grab more market share. Here your analysis tools learned throughout your Black Belt course are going to help you out.
7.) A bridge between management and team(s)
Upper management to teams is an important aspect of the business in order to run smoothly and for this one has to harness the skill of a project manager which naturally comes up as integration to Black Belt training. It might sound easy but if one can easily communicate with these two levels and effectively carry out things smoothly then this skill is a great treasure to the company.
8.) Becoming The Business Leader
With the Black Belt professional training, you learn how to bind your company's views and requirements to the workforce, as they are ultimately the ones who will be working on quality management and improvement.
9.) Sharpen your Customer liaison skills
When you are in senior management you start becoming the face of your company. So when a defect comes up with the service or product that your company manufactures, you are expected to come up with a solution and handle the escalated customer issues. If you are confident and have seen multiple successful projects with Six Sigma, will allow your confidence to deal with this matter efficiently and make necessary amendments, and even support them with facts and figures.
10.) Take your passion to a new stage of Quality enhancement
Lean Six Sigma Black Belt program has more to add value than just merely saying it will hone your statistical skill which is a must for growth in this profession. When you undergo Six Sigma courses and eventually climb up the ladder of belts you start uncovering a new view towards quality management and you develop a keen eye for improvements. The benefits of the Six Sigma Black Belt are more to be felt and seen while you are progressing but ultimately this is the line that it follows around. In addition to this, there are numerous world wars going on Six Sigma online certification vs offline, to put an end to this from a digital perspective; one gets a live trainer, a live environment in the comfort of his own space so as long as the certification is legit and certified, and you get a live project with assistance and an experienced facilitator there is nothing better than this as a busy working professional.