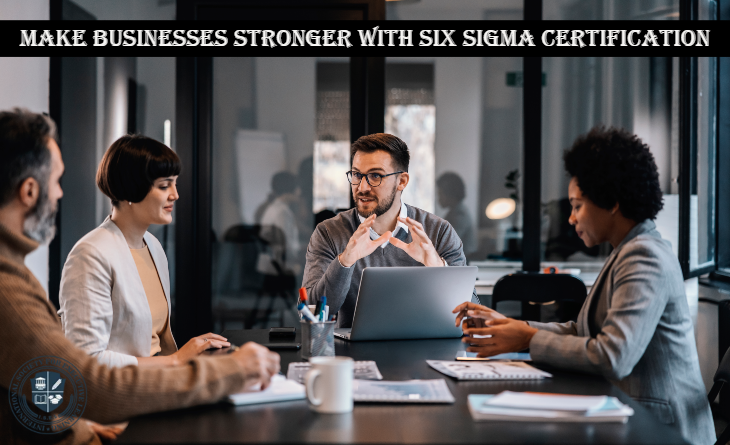 In today's fiercely competitive business landscape, achieving operational excellence is paramount for success. To attain this, organizations across industries are turning to Six Sigma Certification, a proven methodology that guarantees enhanced efficiency and profitability. Whether you aspire to become a Six Sigma Black Belt or Green Belt, or simply seek Six Sigma Certification, this rigorous program equips professionals with the tools and knowledge to drive process improvements, minimize defects, and optimize resource utilization. In this era of relentless innovation and quality-driven markets, embracing Six Sigma Certification isn't just an option; it's a strategic imperative to make businesses stronger and thrive in the face of ever-evolving challenges.
Define Six Sigma and its Benefits
Lean Six Sigma is one of the most helpful techniques to make business processes better by removing any kinds of errors from it. The value of six sigma black belt means that there is a chance of 3.4 errors per million opportunities. This means that the processes will operate at 99% accuracy. This is a very good figure which reduces the chance of any fault and improves the business performance. This can impact and improve business performance in the long run. It is one of the highest demanded skills and companies are looking for experts who hold this certification. Employees get handsome salaries and the value is also increased. One gets a chance to make a difference and work on some of the major projects of the company. It is a win-win situation from both ends.
Six Sigma can do wonders and improve business performance drastically. Here are some of the methods by which businesses can benefit from this technique:
Reduces operational cost
Helps in saving time by providing the best services using the latest technology
The customers remain loyal to the company and its service which helps them to remain ahead in the competition.
The revenue of the company is increased by leaps and bounds.
Different Levels of Six Sigma Certification
There are various levels of six sigma certification. The three common ones which the professionals opt for are as follows:
Six Sigma Green Belt Certification: This is an introductory course where all the nuances of these techniques are taught. A basic introduction is given to the tools like fishbone diagram, 5 whys, brainstorming technique, project charter, regression techniques, analyzing using tools like Minitab, etc. It is the starting point in the career of six sigma experts.
Six Sigma Black Belt Certification: This is a more detailed course where all the above-mentioned tools are taught from theoretical as well as practical points of view. One gets a chance to work on live projects as well. This level is opted for by professionals who want to work with higher management in the company. It is a two months course post which one has to pass the objective exam to attain the certificate.
Six Sigma Master Black Belt Certification: This level is opted for mainly by researchers to want to disrupt the business processes and make them better. The techniques like DMAIC (define, measure, analyze, improve, and control) and DMADV (define, measure, analyze, design, validate) are used to improve the existing and new processes respectively. It is also a two months course (approx) post which one has to pass the objective exam to attain the certificate.
Case Studies and Success Stories
There are various case studies and success stories in the market when it comes to businesses that benefited from the Six Sigma technique. Companies like BMW, Bosch, Denso, Kraft Foods, Nestle, etc have been using six sigma techniques to improve processes and reduce the competitive hurdles. The principles of lean manufacturing are being used. Total productive management helps companies to improve and serve the customer better. Be it any industry, FMCG or Insurance, this technique is used and demanded across industries.
Overcoming Challenges in Implementing Six Sigma
When a business process is developed, it includes some of the best technology and tools. It is centrally skewed. But when an improvised version of that technology emerges in the market, those processes become left or right-skewed. To make sure there are negligible deviations in the business process, the six sigma technique is the best-used tool. To remain ahead of the competition and to make sure the customer base is intact, this is the best tool available in the market. It can be used in any company to improve the performance of the business.
Training and Preparation
Six Sigma is one of the most demanded skills nowadays. The benefits that it brings to the companies compel them to hire six sigma experts. To attain this demanding skill, one can go for a certification program by ISEL Global Education. All the above levels mentioned above are of a duration of two months each. The institute helps professionals in learning all the skills from both practical as well as theoretical points of view. The institute provides the best teaching standards to explain the concepts of six sigma. They follow the best practices which help the professionals to stand out of the crowd and get their dream job. The course curriculum is also revised from time to time to meet industry standards. Apply for the training program and see the difference in your career.
Conclusion
If you are looking for an opportunity to boost your career in the field of six sigma, ISEL Global is your go-to place. They make sure that the professionals get the best service to upskill themselves. It is an agency-based institute that helps professionals to get a good job, hike their existing salary, and also internship opportunities. The professionals have seen drastic differences in their career paths after completing this certification.
Call-to-Action
To make sure that one gets a certificate that is universally accredited and accepted, go for a training program from ISEL Global. With years of experience in this field, they have successfully produced various pioneers in this field. The course fees are also nominal. The main aim of the company is to guide professionals toward a better career and future. So what are you waiting for? Apply today!