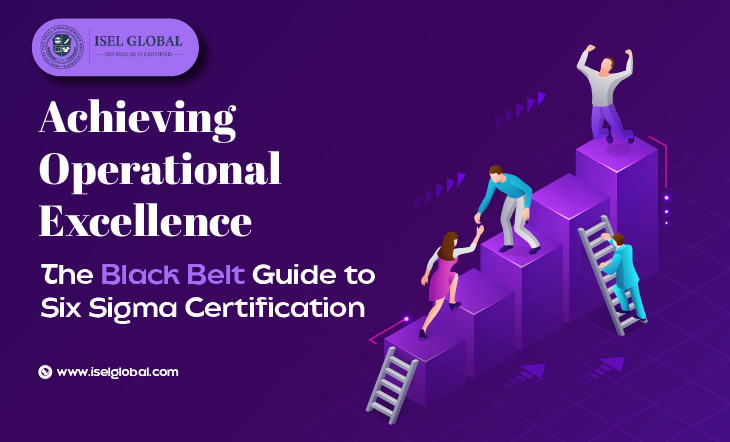 In today's fiercely competitive business landscape, organizations strive for operational excellence to gain a significant edge. Six Sigma methodologies have emerged as a powerful approach to achieving this goal, and professionals are increasingly seeking the prestigious Six Sigma Black Belt certification to become proficient in implementing these methodologies. In this blog, we will delve into the significance of Black Belt certification, its relevance in India, and how organizations can reap substantial benefits by investing in this certification offered by ISEL Global, a leading provider of Six Sigma certification online in India.
Advanced Problem-Solving Techniques: Leveraging Six Sigma Black Belt Certification
The acquisition of Six Sigma Black Belt certification equips professionals with advanced problem-solving techniques that are indispensable for achieving operational excellence. By mastering the DMAIC (Define, Measure, Analyze, Improve, Control) methodology and statistical analysis tools, Black Belt-certified individuals possess the skills to identify root causes accurately. Armed with this expertise, they can drive sustainable process improvements that lead to increased efficiency, reduced defects, and enhanced customer satisfaction. Organizations that harness the problem-solving prowess of Black Belts gain a competitive advantage by addressing complex challenges and streamlining operations.
Process Optimization Mastery: Key Skills of Six Sigma Black Belts
Process optimization lies at the core of Six Sigma Black Belt certification. Black Belts develop a deep understanding of Lean Six Sigma principles and tools, enabling them to identify and eliminate process inefficiencies. Through their knowledge of statistical analysis and process mapping techniques, Black Belts can streamline operations, reduce waste, and improve overall performance. By maximizing value and minimizing variation, they significantly contribute to achieving operational excellence within organizations. This mastery of process optimization ensures that resources are utilized optimally, bottlenecks are eliminated, and quality is enhanced, ultimately leading to improved customer satisfaction and bottom-line results.
Leading High-Impact Projects: The Role of Six Sigma Black Belt Certification
One of the key roles of Six Sigma Black Belt is to lead high-impact projects within organizations. Equipped with the certification, they possess the necessary skills to lead cross-functional teams and align project goals with strategic business objectives. By leveraging their expertise in project management and change management, Black Belts drive successful project execution, ensuring that initiatives deliver the desired outcomes. Their ability to navigate complex projects, manage stakeholder expectations, and guide teams toward operational excellence makes them invaluable assets to organizations. With Black Belts at the helm, organizations can effectively tackle process improvement projects, drive innovation, and foster a culture of continuous improvement.
Driving Business Transformation: The Power of Six Sigma Black Belt Certification
In India's dynamic business landscape, Six Sigma Black Belt certification is increasingly recognized as a catalyst for driving transformative change. Organizations that invest in this certification from ISEL Global empower their workforce to cultivate a culture of continuous improvement and operational excellence. Certified Black Belts bring data-driven decision-making, process optimization skills, and effective problem-solving capabilities to the table. By leveraging these skills, businesses can achieve higher efficiency, superior quality, and increased customer satisfaction. With Six Sigma Black Belts leading the charge, organizations can embrace transformative change, secure a competitive edge, and ensure sustainable growth in the face of ever-evolving market demands.
Six Sigma Black Belt certification holds immense value for professionals seeking to make a significant impact in the world of business. In India, organizations can leverage the expertise of certified Black Belts to drive operational excellence, enhance process efficiency, and deliver tangible results. ISEL Global offers comprehensive Six Sigma certification programs, including convenient online options, making it accessible to professionals across India. By investing in Six Sigma Black Belt certification, individuals and organizations can unlock their potential for excellence and thrive in the dynamic and evolving business landscape. ISEL Global's Six Sigma certification programs provide a comprehensive and structured approach to developing the skills and knowledge required to become a proficient Black Belt. Their online certification options offer convenience and flexibility, allowing professionals from all corners of India to access high-quality training and education.
Moreover, the Six Sigma certification online in India offered by ISEL Global is designed to cater to the specific needs and requirements of Indian businesses. It takes into account the unique challenges faced by organizations in India and provides practical and applicable solutions. By aligning the training with local industry practices and standards, ISEL Global ensures that certified Black Belts are equipped with the right tools and strategies to drive operational excellence in the Indian business landscape.
Furthermore, the recognition and credibility associated with Six Sigma Black Belt certification from ISEL Global can significantly enhance career prospects for professionals. The certification serves as a validation of one's expertise and commitment to continuous improvement. It opens up new opportunities for advancement, higher salary prospects, and the ability to lead impactful projects within organizations.
In conclusion, Six Sigma Black Belt certification is a powerful pathway to achieving operational excellence in today's competitive business environment. In India, organizations can leverage the expertise of certified Black Belts to drive process improvement initiatives, optimize performance, and achieve sustainable growth. By partnering with ISEL Global for Six Sigma certification online in India, professionals can embark on a transformative journey, equipping themselves with the necessary skills and knowledge to become agents of change and drive operational excellence in their organizations.