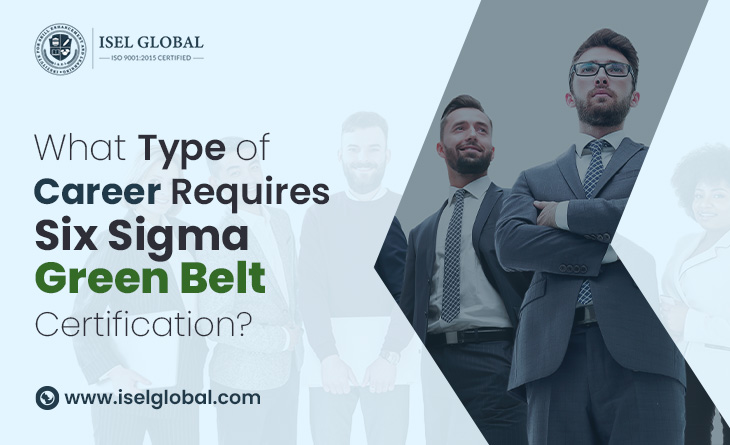 With every rising sun, something new is developed in the virtual world. Be it a service or technology, it is growing day by day. To cope in the race of being the best in their respective sectors, companies come up with new ways to attract and retain customers. The companies that follow old practices remain behind. To avoid this, they need to enhance their existing business processes. This can be done by enhancing the business processes with the tools included in the Six Sigma technique.
Six Sigma Green Belt certification is one of its kind certificates that help companies to remove any errors or deviations from the business processes. Any new development can also be improved with the help of this technique. The value of six sigma means reducing the chances of error occurrence significantly. It means that the business process operated at 99% accuracy which is the minute chance of the 3.4 errors per million opportunity. This means that processes will be up to the mark and cater to the customer's needs.
Need for Six Sigma
With time, various kinds of errors occur in the business process. They even become obsolete. With the latest technology and practices, companies attract the customer at a much higher rate. It even helps in reducing operational costs and time. Businesses that follow the latest practices are less likely to lose customers. It also helps in increasing the revenue by leaps and bounds. The people who want to work in the managerial department and make a difference can go for Six Sigma Green Belt.
Six Sigma Green Belt in Various Industries
A Six Sigma Green Belt certification is valuable in various industries and job roles that focus on process improvement, quality control, and operational efficiency. Here are some careers that often require or benefit from Six Sigma Green Belt certification:
Quality Engineer: Quality engineers are responsible for maintaining and improving product or service quality within an organization. Six Sigma Green Belt certification equips them with the skills to identify and eliminate defects, reducing variations and improving overall performance.
Process Improvement Analyst: These professionals analyze business processes, identify areas for improvement, and implement changes to enhance efficiency. Six Sigma Green Belt tools and methodologies aid in data-driven decision-making and process optimization.
Operations Manager: Operations managers oversee daily business operations and strive to optimize processes and resource allocation. Six Sigma Green Belt knowledge helps them streamline workflows and reduce operational costs.
Project Manager: Project managers can benefit from Six Sigma techniques to manage projects more efficiently, control risks, and ensure project success by delivering results within defined parameters.
Supply Chain Manager: In supply chain management, ensuring smooth processes and minimizing waste is crucial. Six Sigma Green Belt skills enable supply chain managers to streamline logistics and reduce lead times.
Manufacturing Engineer: Six Sigma Green Belt certification is highly relevant to manufacturing engineers as it equips them to identify defects, improve production processes, and enhance product quality.
Business Analyst: Business analysts gather and analyze data to provide insights for decision-making. Six Sigma Green Belt certification adds a structured approach to their analytical capabilities.
Healthcare Professionals: In the healthcare sector, professionals such as nurses, administrators, and managers can benefit from Six Sigma Green Belt principles to enhance patient care, optimize workflows, and reduce medical errors.
Financial Analyst: Financial analysts can leverage Six Sigma methodologies to analyze and optimize financial processes, budgeting, and resource allocation.
In conclusion, Six Sigma Green Belt certification is relevant across a wide range of industries and careers, empowering professionals to streamline processes, improve quality, and drive organizational success through data-driven decision-making.The demand for such skills is increasing with every passing day. Companies are looking for experts in six sigma. Employees who want to leverage their careers in this field can opt for this certification. Here are some of the benefits that the Six Sigma Green Belt can bring to your career:
The value of the employee is increased in the organization. One gets a chance to work on some of the major developments happening in the company
Helps in boosting your CV which helps in a job switch
Since this skill is so much in demand, the experts are well paid
The growth and scope of this field is humongous. There are a lot of opportunities.
ISEL Global Education is a one-stop solution for Six Sigma certification of any level. With years of experience in this field, the institute has nurtured various pioneers in this field. With the infrastructure and latest teaching standards, it has become a preferred choice of the applicants. If you are looking for a genuine and globally recognized and that too in a limited budget, Six Sigma Green belt certification, apply for the course today!