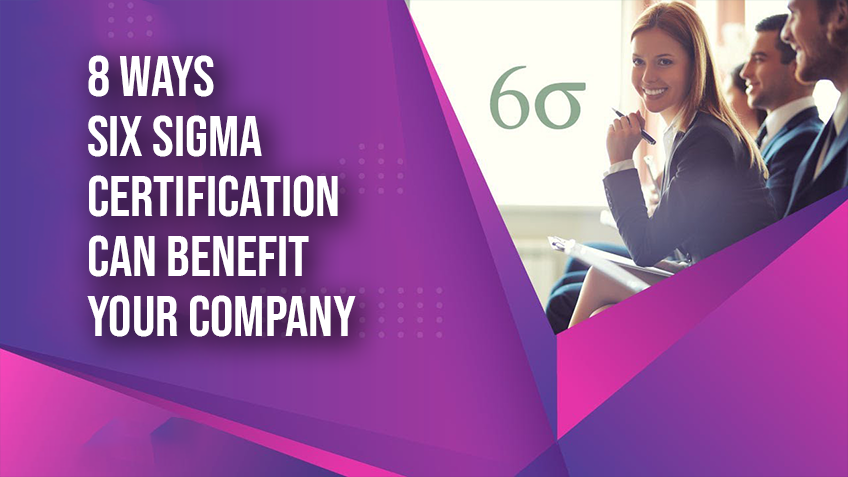 For businesses trying to recognize problems, eradicate root causes of errors or faults and develop business processes, Six Sigma has proved quite effective. Six Sigma has been widely adopted by organizations across various industries since its invention by Motorola Company in 1986. If new businesses listen to and fulfill consumer expectations, the organizations that already have developed themselves will use the concepts of Six Sigma in their attempts to meet the endless goals of increasing quality and lowering costs. Six Sigma Certification has a wide variety of advantages. There are however six major ways to the company that the Six Sigma Certification approach brings:
Here are the 8 Ways Six Sigma Certification Can Benefit Your Company
1. Time Management
Using the Six Sigma approach, workers will handle their time efficiently, making their company more profitable and prosperous. The users must set SMART objectives and apply the Six Sigma data principles to those objectives. This is accomplished in three main areas: learning, success, and achievement. For example, having a Six Sigma Certification Online from a practitioner is quite useful. It helps to ask himself during learning: how frequently do I receive interruptions and how many of these disturbances require my attention? Likewise, they might consider underperformance in how their activities help them achieve their professional objectives.
In this way, users can draw up an action plan which will allow workers to achieve an enhanced balance between work and life to be up to 30 percent more productive and happier themselves.
2. Employee Motivation
Each organization wants its employees to be successful - but there must be ample incentive for employees to do so. In fact, efficiency gains have repeatedly been seen by organizations, that are ready to collaborate with workers in full. Tools and technologies that share Six Sigma problem-solving can allow employee growth and help build a workplace incentive environment and systems.
3. Improved Customer Loyalty
Every company wants its customers kept. In reality, this is a major determinant of a company's performance. However, of course, only high levels of customer satisfaction contribute to customer loyalty and retention. Surveys say that disappointment with experience and employee attitude is why most clients do not return to the company. Sometimes, a company doesn't even realize that it has an unhappy client, as it brings its company to another location.
Implementing Six Sigma decreases the organization's likelihood of being unhelpful since a few encounters can go beyond their requirements once training is complete. To do that, you may want to think of a customer research voice to help your company understand which qualities of your products are essential to customer satisfaction perception.
4. Reduced Time Cycle
Unfortunately, most organizations undertake projects that frequently stretch past the initial timeline, as the nature of the project changes or management policy changes. With Six Sigma, a company may create a team of high-profile employees from each department and from all levels of the organization. The role of this team is then to identify factors that can adversely affect the project that results in long cycle times. You will then find answers to these possible issues. This helps businesses to set up and comply with projects in shorter cycle times with many companies reporting cycle reductions of up to 35%.
5. Supply Chain Management
As mentioned above, Six Sigma's goal is to achieve a defect rate of less than 3.4 per million, and the suppliers have a big impact on whether this objective is achieved. Six Sigma is one potential way to decrease the company's fault risk by reducing the number of providers that you have since this decreases the fault risk in turn. If your supplier plans to make any improvements, it is also necessary to understand. For example, a machine change may take on the same effect as the waves thrown from a rock in a pool. Six Sigma developments are powered by the most profitable companies as long as possible in the supply chain.
6. Strategic Planning
In any strategic vision, Six Sigma can play an integral role. Six Sigma will help you concentrate on areas of change until you make a mission statement and conduct a SWOT analysis. For example, Six Sigma can be used to optimize internal processes, increase yields, reduce unnecessary uncertainty and achieve or retain the lowest cost supplier agreements, when the business strategy is focused on being the market leader in cost. Indeed Six Sigma will help to make your business the best at what it does, regardless of your strategy.
7. Low cost and higher revenue
Implementing Six Sigma processes within your company ensures that you will produce sales, one of the main aspects of owning a corporation. The increasing income produced for many organizations is important, as they can thrive in highly competitive market conditions. Six Sigma allows company owners to research their processes in greater detail and to determine carefully before taking decisive action. These decisions are factual, generally leading to better quality and maximization of benefits. The more reliable your goods and services are, the more money your company produces.
Six Sigma will then recognize and direct you in taking the right steps to rectify your business's most challenging and complicated aspects. The above points demonstrate that Six Sigma is a strategic approach that continuously monitors outcomes and contributes to better efficiency, taking your organization closer and closer to business excellence. For any organization which wishes to become a local or global competitor, Six Sigma should be considered a benchmark with -its high-quality products and services.
8. Reducing Waste
Often the waste is caused by delays and high cost of service. Waste management is therefore of great importance to any organization. One of Six Sigma's key goals is to generate more products while using less time, space, effort, resources, and energy inputs. This approach also helps companies ensure that resources are used and efficiently distributed. Thus, removing unnecessary business eliminates the company's capacity for decadence and allows the processes that add value for the consumer to be continually improved.
Final Thoughts
Six Sigma uses two sub-methodologies: DMAIC for the description, measuring, research, development, and control phase, and DMADV for the definition, calculation, analysis, and testing of new processes. Six Sigma benefits within an organization are a lot.